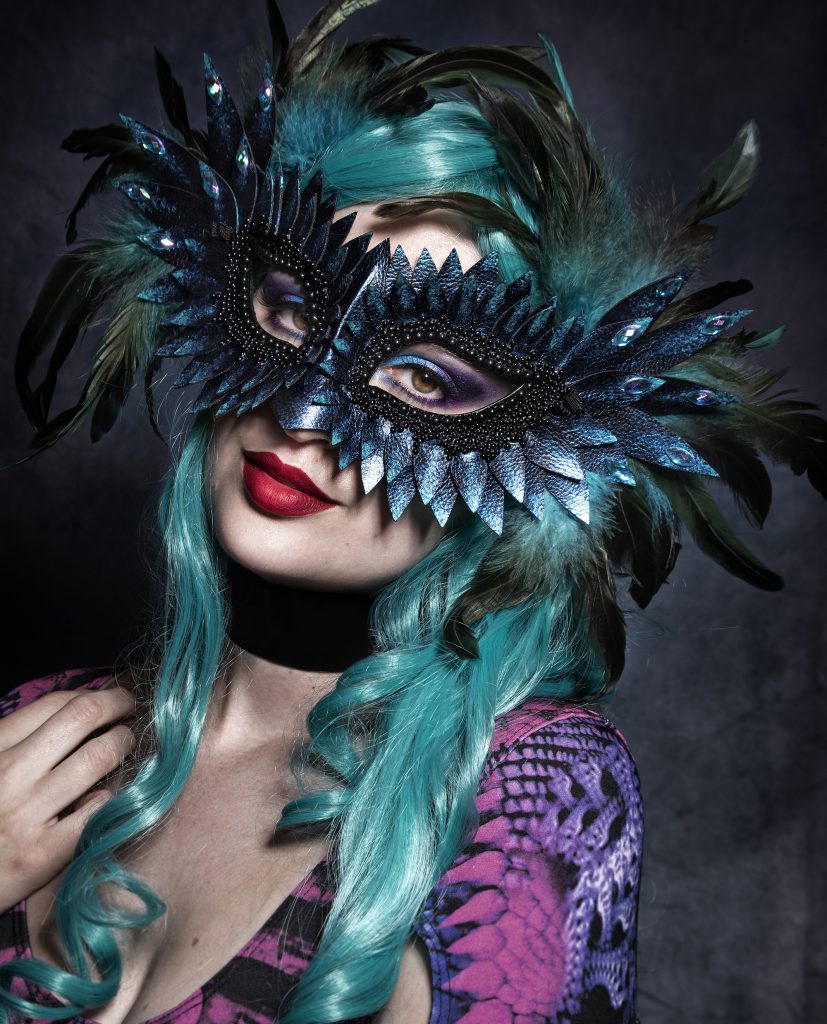 I cannot get enough of this mask. Individually cut and attached faux leather pieces are painted electric blue fan out from the face. Multi chrome jewels decorate the outer most pieces and shimmer in the light when you turn your head. Beautiful blue and black feathers frame either side of the face, curving to meet at the top of the head. Surrounding the eyes are hundreds of black beads, some 5mm and others 2mm.
This mask is very lightweight and comfortable to wear! Like all of my masks, there is fleece padding on the inside of the mask to provide comfort so you can rock this look all day and all night.
Mask size: One Size Fits All
This mask will fit ages six and up. We will happily add additional padding to the mask to provide a comfortable fit for smaller faces, at no extra charge. Please let us know if you are ordering for a child or would prefer extra padding on your mask.
Waterproof: No
Flexibility (Will it bend to fit my face?): Moderately Flexible
Material: Faux leather
Comes with: Elastic Band
Ordering multiples of the same mask:
If you see a design you like and would like multiples made, please reach out to me. Bulk orders receive a discount and can be finished in a timely manner to ensure you receive your masks in time.
Caring for your mask:
All masks are given a protective glossy coat on the inside and have strategically placed fleece padding for comfort. If the interior of the mask should get dirty from being worn, gently wipe down the mask with a gentle cleaner (makeup remover is fine to use) and spot clean the fleece using warm water and a gentle dabbing motion.
Please note that these masks are not water proof. While they are fine if they get slightly damp, a soaking will likely cause damage.
As with any mask with feathers, you may need to preen and adjust the pieces to your liking.